Australian Open, Third Round (Day Six)
(1) Djokovic d. Mahut, 6/0 6/1 6/1
There was plenty of great tennis on Rod Laver Arena today, but only ever from one end of the court, although that end alternated every two games. Play commenced at 11am, and had wrapped by 3.30pm. A nosebleed ticket to today's day session cost $127.50, and provided a total of four and half hours of 'entertainment', but only if one includes watching the players hitting up, and killing time between matches. Actual play time totalled considerably less than that, at a touch under 200 minutes.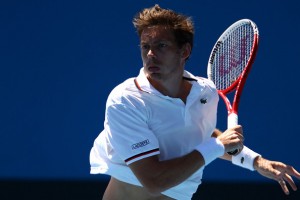 That works out to about $38 per hour, a steep price to pay for some of the least competitive tennis in grand slam history. Across today's three matches – two of which were women's – the victorious players dropped a total of five games. Is a refund out of the question?
The lone men's match was between Nicolas Mahut and Novak Djokovic, who last year attained a taste for WTA-like scores. The world No.1 had a realistic shot at inflicting the first triple-bagel in the tournament's history, which would have provided the match with a second talking point, besides that fact that it was Mahut's 30th birthday. With so little transpiring on court, the commentators were obliged to amuse themselves, with typically disturbing results.
While it is true that Mahut was injured – another useful talking-point – realistically this had zero bearing on the outcome. A healthy Frenchman might have claimed a few more games, but to actually take a set he would need to clone himself (though only once). To actually win he'd need to recreate the 'burly brawl' scene from Matrix Reloaded. Djokovic looked frightening, but he had no reason not to.
It raises a pertinent question: all else being equal, would the crowd prefer good tennis, or a good match? Presumably they'd take both, but through the first week on Rod Laver Arena that has rarely been a possibility. The close matches have mostly involved locals, while the big names have not dropped a set. The more I think on it, the more I suspect the question itself is flawed. The choice in the first week – especially in the day sessions – has not been between good tennis and good matches, but between good matches and famous names.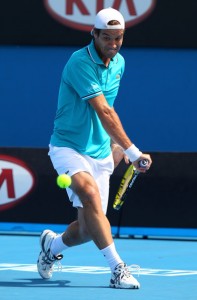 Thus we endured Djokovic and Mahut, while Andy Murray and Michael Llodra – surely a more interesting match-up – are relegated to Hisense. But would the sell-out crowd in RLA have preferred it the other way around?
(17) Gasquet d. (9) Tipsarevic, 6/3 6/3 6/1
As ever in the first week, the smart ticket today appeared to be the general admission ground pass, coupled with the wherewithal to ensconce oneself early in Margaret Court Arena. Perusing the litany of horrendous mismatches that passes for the daily schedule, only a couple of matches actually stood out, and chief among these was Janko Tipsarevic and Richard Gasquet on MCA.
Alas, it turned out to be another blowout, sadly in keeping with the day's theme. Todd Woodbridge, commentating, had it right when he pointed out that for all Gasquet's backhand is his money shot, it's the forehand that tells the tale. When it's on, he's close to unbeatable. Today it was on, and contributed its share to his 33 winners (with just eight unforced errors, and an 85% return on net forays). These heroic numbers dovetailed nicely with Tipsarevic's, which were appalling, although he did achieve a 100% return on breakpoint conversion: one from one. The third set was little short of an outright tank by the Serbian, who was reduced to wild and petulant slashing by the last game. Given his history, I suppose he is to be commended for seeing out that final game at all.