Brisbane, First Round
(8) Tomic d. Benneteau, 6/2 4/6 7/5
Baghdatis d. Harrison, 7/6 6/4
Mixed results for the scourge of troubled youths in Brisbane. Bernard Tomic showed a stern and rare manliness in overcoming Julien Benneteau in three sets. He was unstoppable through the first set, and largely incapable in the second, when Benneteau lifted, although I wouldn't want to imply that he therefore lifted very high. Breaks were traded in the decider, but Tomic's stony and vaguely autistic impassiveness looked set to carry the day.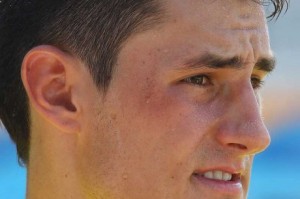 Match points were discarded with brash abandon, until the Frenchman grew offended at such profligate waste and chose to intervene, realising that he alone had the power to end this thing. Tomic looked on with rugged and dim aloofness, like a latter-day Marlboro Man, daring Benneteau to gift him another. Benneteau obliged, and then obliged again.
Meanwhile Ryan Harrison went down swinging against Marcos Baghdatis, although it might be fairer to say Baghdatis went up swinging. Either way, there was plenty of swinging (and the Australian leg of the season hasn't even been christened a 'swing' yet, thank god). It was tremendously entertaining, and Harrison's serve is a fearsome weapon, but it was a match he really needed to win. Baghdatis will not have received the memo – they still have memos, right? – but the Cypriot has devolved into one of those players whose function is to provide a breakthrough win for the up-and-comer (when he isn't wrecking a top player's day). Five years ago Baghdatis was the up-and-comer, and plenty of veterans obligingly did the same for him. Time to pay it forward.
Doha, First Round
(2) Federer d. Davydenko, 6/2 6/2
Having stunk up the joint at that 'just an exhibition' in Abu Dhabi last week, where he conceded two matches in straight and noisome sets, Roger Federer has commenced his Doha title defence in far less putrid form. He looks a more assured, and aromatic, player than last week.
Before his fans get ahead of themselves, however, it's important to bear in mind that Nikolay Davydenko looks a different player from those Federer faced last week. Sadly, Davydenko is also a different player from the one who fell to Federer in last year's final, let alone the one who defeated Federer and Nadal here two years ago. Although otherwise inconsequential, Doha provides a useful chart of Davydenko's recent decline, which shows no signs of pausing. Indeed, the Russian's swan dive into irrelevance appears to be accelerating, having attained a velocity that could well prove terminal. Still, Federer's serve and forehand have seemingly returned to the transcendent levels we saw in London.