(4) Murray d. Harrison, 4/6 6/3 6/4 6/2
Photon-drunk from the sun's intimate and ceaseless ministrations, I had either begun to hear voices, or else the suffocating heat had proved sufficient to rewire my brain for telepathy. "I mean, I have nothing against Harrison, but frankly I wish he'd just bugger off," muttered a Scottish accent with special vehemence from extreme close range. In my addled torpor I momentarily assumed I was suddenly receiving Andy Murray's inner-most thoughts, broadcast as he stalked to his chair in Hisense Arena, having dropped the first set to an inspired Ryan Harrison.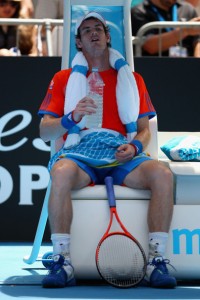 My eyes shot open, mind suddenly racing. Having the No.4 tennis player in the world transmitting his thoughts directly into my head could have its uses, especially if his pre-point mind-clearing ritual involved reciting his own credit card details. Alas, it turned out the comment had originated from the trio of baking Scots lounging in the seats in front of me. The refrain from Noel Coward's 'Mad Dogs and Englishmen' skittered through my head, incongruously, since they weren't English, and here I was, expiring in the noonday sun along with them. In Brad Gilbert's surprisingly memorable phrase, the last two days in Melbourne have resembled being 'in a hair drier'. (Given Fernando Verdasco's familiarity with hair products of all types, it is impossible to fathom his decision yesterday to play dressed as a naked flame.)
The moment the draw was released, it was clear that of the top four, Murray had been dealt not only the most treacherous path to the semifinals, but that it would commence with the trickiest opening round as well. Nadal and Federer both faced down qualifiers. Djokovic had earlier dispatched Paolo Lorenzi for the loss of two games, his match the centrepiece of a truly lousy day out for ticket-holders on Rod Laver Arena. Meanwhile Murray faced Ryan Harrison, one of the most dangerous of the sporadically-touted new guard.
Based on Harrison's first set today, he is also one of the most fearless. The serve and forehand he has always owned – they were his passport into the top hundred – but he appears to have injected yards of pace into his backhand drives, especially those directed up the line. However, it's one thing to master a shot in practice, but it's entirely different to dictate with it confidently in match play.
(I watched Harrison play a practice set against Alex Bogomolov Jr. yesterday, and my first thought – aside from the certainty that this lad hailed from a culture that exalts protein – was that Murray's draw wasn't so difficult after all. Bogomolov was comprehensively out-hitting his erstwhile compatriot.)
The match turned in the second set, not because Harrison grew suddenly fearful, but also not because Murray necessarily lifted. It was simply that Harrison could not maintain his elevated level, which was a shame for those of us who aren't British, and had therefore hoped that an inspired opponent might push the Scot to dizzying heights. Sadly, it wasn't to be. The match remained distinctly earthbound, where Murray prefers it. He has a way of anchoring those who threaten to take flight.
Wily campaigner that he is, Murray's telepathically projected desire that Harrison might bugger off thus turned out to be astutely predictive. He had correctly assumed that the American could not maintain his standard, an assumption that was widely shared by everyone besides his fans. The last three sets were only slightly less entertaining than the first, but the result was hardly in question. The three Scots in front of me never stopped groaning and muttering until the very end. To be fair, Murray didn't either, for all that his usual carping was unusually muted, perhaps owing to the impassive new presence in his player's box.
Whether a sustained work-out in savage conditions will help or hinder Murray in the long run remains an open question, and one that is unlikely to be answered before the weekend. His next few opponents are entirely manageable, including a potential encounter with Bogomolov Jr. in the third round. As for Harrison, he will presumably take a great deal from this match, not least of which will be many thousands of new fans, keen to chart his progression as the season unfurls. Kinder draws will come, and I am convinced he will make the most of them. The voices in my head told me so.