Australian Open, Second Round (Day Four)
Of the 128 men who contested the first round at this year's Australian Open, 96 have already lost. This is the ordinary attrition rate through two rounds of a major tournament, so there's no reason to panic. The numbers check out. Of the 32 remaining, I can say that there are as many Canadians as Americans, even if we include those Americans who turned out to be Russian.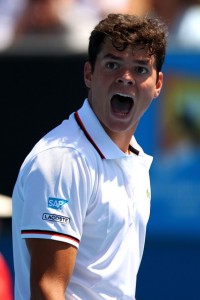 Seeds have tumbled – they crunch underfoot when you step on them – but not any of the truly fertile ones, the ones that are likely to bear fruit. Roddick's loss will be amply discussed, but not because he lost. Those given to considering his thighs now have an excuse. The rest of us have no choice.
There were a number of five setters today, but compared to the first round's they weren't savage, although a couple were long. Twice players fought back from two sets down to level the match, only to lose the decider. Three men who'd survived the savagery of round one hit the deck in round two. Only Gilles Simon featured in both groups.
(5) Ferrer d. Sweeting, 6/7 6/2 3/6 6/2 6/3
It never felt as though David Ferrer wouldn't come back against Ryan Sweeting; perhaps a five-setter had seemed unlikely, but an upset was unthinkable. It was also a useful reminder that just because a match goes to five sets, doesn't mean it is necessarily close. Nadal's win over Isner at Roland Garros last year demonstrated this principle, but really, the fact that it requires demonstration is a curious issue. There was a time when it didn't, when good players were taken to five sets all the time, yet remained favourites to win. A decade of domination by a parade of godlike No.1s has accustomed us to a WTA-like river cruise through the early rounds for the top players. Dropped sets here and there have become newsworthy, and widely analysed, suggesting the rapacious new-cycle as a partial culprit. It turns out there's not a lot to say about Nadal or Djokovic ambling past a cast of extras on the way to the quarterfinals. Or, more accurately, there is plenty to say, but finding new ways to say it is a lot of work, and it's easier to spin a dropped set or two as a 'scare'.
It is entirely possible that I had too much faith in Ferrer, or too little in Sweeting. Idling courtside today, in relenting sunshine and an edgeless southerly, I had the utmost confidence that the tournament would not lose its fifth seed. Ferrer was two sets to one down, but the three sets had not been taxing, barely registering on the Spaniard's own worn scale for such things. A great deal of this owed to Sweeting, who in the last eight or nine months has somehow transformed himself from a toothless pusher into a daring baseliner. Ferrer took the last couple of sets comfortably, two and three.
(9) Tipsarevic d. Duckworth, 3/6 6/2 7/6 6/4
It was a broadly similar story over on Margaret Arena Stadium, where Janko Tipsarevic dropped the opening set to the promising James Duckworth, and thereafter toiled mightily to secure a four set win. But the thing is, for all that
Tipsarevic has earned his detractors, he has also earned his place in the top ten, and he should be willing to work hard for a win. He should, he is, and he did. It's a nice thing to be able to say about a guy who all too often hasn't. A fine match.
(24) Nishikori d. Ebden, 3/6 1/6 6/4 6/1 6/1
Kei Nishikori's recovery from two sets down was a different matter, since it was not a fine match, and he was legitimately in danger of losing it, if only momentarily. The moment came at the start of the third set, when Matthew Ebden was still on a roll, having romped through the first two. But a moment was all it was, and once it passed the last three sets felt like the very long denouement to a tale that had already been resolved. It was probably long enough for Ebden to make peace with his fate, but the vehemently hurled racquet on match point suggested otherwise. There is also the possibility that the fey spirit inhabiting MCA had taken possession of him, as it did to both Nalbandian and Baghdatis yesterday. That court has taken a pounding in the last 24 hours.
At the commencement of today's play, there was the possibility that two Japanese males might inhabit the third round of a major, an outcome that has happened precisely never before. It was very nearly none, but Nishikori's eventual victory helpfully offset Tatsuma Ito's earlier loss to Nicholas Mahut. It is also only the second time Mahut has progressed so far, which is frankly surprising. He next plays Djokovic, so he won't be going on with it. Lest the goal was an historical angle, I can say that Frederico Gil's win over Marcel Granollers has propelled a Portuguese male into the last 32 for the first time.