In the eternal quest for recognition, there is no quality more valuable than to be easily and readily identifiable. This is not a difficult concept, although its ramifications are many, and it is amazing how long it took to catch on.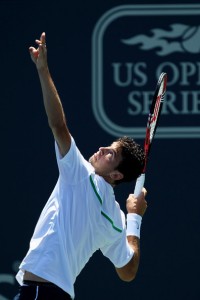 The moment it did was the moment brands achieved their own life, and the moment genre attained primacy over content. It turns out there is no limit to the disparate things that might be grouped, with an allegedly unifying theme imposed only later.
About ten years ago the ATP belatedly caught up to this elementary idea, and the men's tour was subjected to a thorough brand repositioning, which is a cute way of saying everything became shinier and more facile. The Super 9 events became the Masters Series, while the useful but apparently baffling Entry System gave way to the simpler and mostly useless Champion's Race. The centrepiece of this effort was the New Balls Please campaign, which threw together a number of up and coming tennis players, many of who shared few traits beyond a willingness to glower for the promotional material.
Concerned at a perceived waning in fan interest, due largely to Sampras' decade-long dominance, the ATP launched the New Balls campaign just prior to the US Open in 2000, and immediately struck gold when Safin thrashed Sampras in the final. A poster ad followed up: 'How do you like me now?' demanded Safin sternly. A counter-poster appeared, featuring Sampras and Agassi: "Dream on, boys," it proclaimed, boldly implying that Pete and Andre had arranged it themselves, and that this was a bona fide turf war. Kuerten eventually topped both at the Masters Cup to grab the year-end top ranking, and the New Balls line-up was expanded to an even dozen, and a calendar appeared (which I still have in a cupboard somewhere). The dour, chin-thrusting squints of the participants were familiar: Haas, Hewitt, Ferrero, Federer, Grosjean etc. An aptitude for tennis was about all they had in common, and many were already on wildly divergent career paths. But they were marketable, and the fallacious idea of wholesale generational change in tennis became entrenched.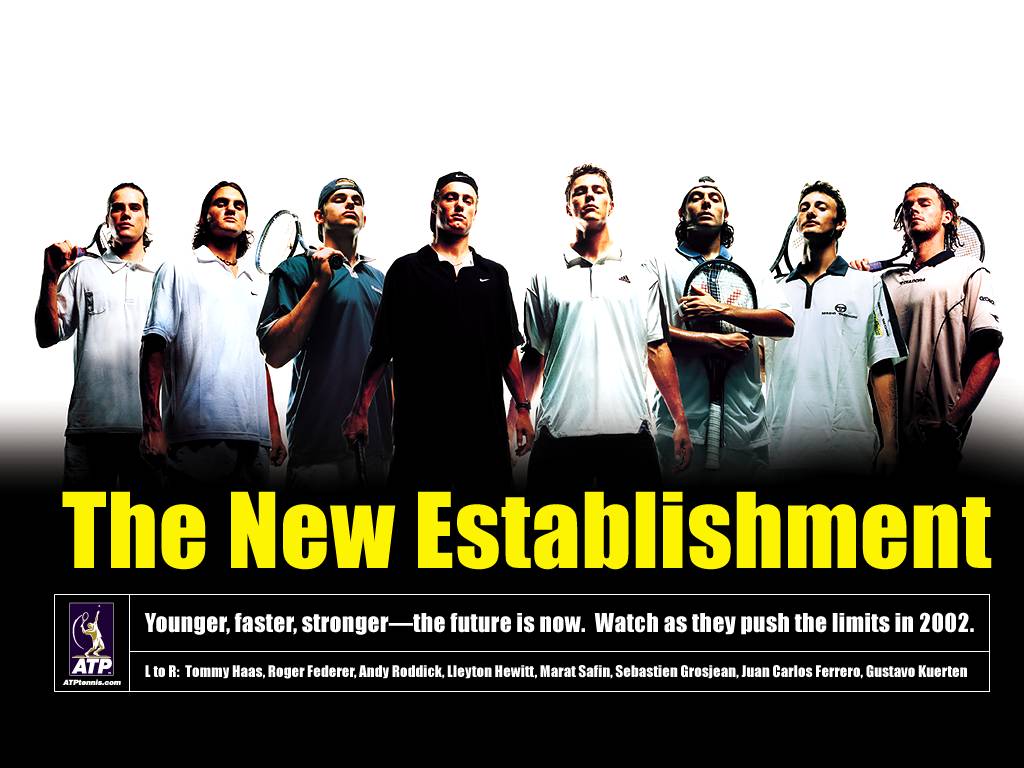 Skip forwards a decade, and for the first time in years, we are beset with an identifiable gang of youths on the rise. Each made his mark at the 2011 Australian Open. By the end of that tournament, they were being treated as a cohesive unit, inevitably, and paid the lazy compliment of being assigned roles based on players of the past. Thus one was the new Sampras, another the next Mecir, or Rios. Their names were Grigor Dimitrov, Milos Raonic, Ricardas Berankis and Bernard Tomic. March saw the addition of Ryan Harrison. 2011 was their first full year on the tour. The most amazing thing is that the News Balls Please campaign was not rehashed; an opportunity missed by the ATP, mercifully.
Milos Raonic
Current Ranking: 31
I first encountered Raonic as he pounded through the Australian Open qualifying draw with placid violence, and first wrote about him as he tore into the main one. At the time it seemed clear – and I suggested as much –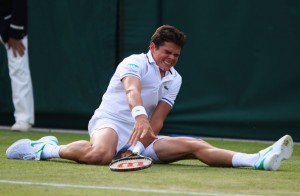 that if any player is fated to succeed, it was he. Quite aside from his lethally exuberant first strike game, he boasted the more ephemeral advantages of a baked-in fan base (being Canadian) and a ready-made catch-phrase ('Another game for Milos!').
He just needed the results. They began as a trickle in Melbourne, and grew to a torrent in North America soon afterwards. Raonic captured his first title at San Jose in February and very nearly grabbed a second the following week in Memphis. His clay season was reassuringly solid – it turns out he can even play real tennis – and big things were expected at Wimbledon, where his penchant for short shorts nearly launched a New Balls Please campaign on its own. Sadly, he fell injured early, and spent the entire US Summer rehabilitating. It is no stretch to see him rising higher still in 2012, although he has plenty to defend in the first four months.
Bernard Tomic
Current Ranking: 42
Tomic was the story of Wimbledon's first week, as he carved and prodded his way through an obliging coterie of also-rans (Andreev), has-beens (Davydenko), head-cases (Malisse) and Robin Soderling, becoming the youngest quarterfinalist in 26 years.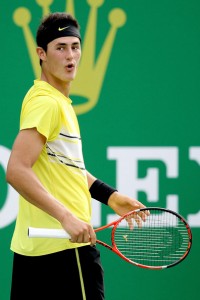 It was impressive, but doubts lingered over his mettle, though few questioned his luck. In the quarterfinals he ran afoul of Novak Djokovic, and performed with such poise and grit in a four set loss that reasonable doubt was quashed. He is still not well-loved, and probably never will be, but Tomic is unarguably the real deal.
The trick for him will be to add substantially to his current ranking before Wimbledon comes around again. Banking on repeating last year's run is a pretty shaky proposition. Like Raonic, he may conceivably finish 2012 higher than he is now, but I suspect he will sink lower in the meantime.
Grigor Dimitrov
Current Ranking: 76
Most players in this group bear a pronounced burden of national expectation, since many are from proud tennis nations that aren't Spain, Serbia or France, and have thus known better days. Bulgarian Grigor Dimitrov carries international expectations. Even among his peers he is considered the talented one, and he arguably didn't help himself by basing his game so closely on Roger Federer's that he can look like a caricature. The backhand and serve appear particularly aped, although the forehand barely resembles its model, since Dimitrov, like everyone else, cannot reproduce Federer's prodigious extension through the strike-zone. There is consequently an easy trap to fall into with Dimitrov, which is merely to ridicule him, and dwell on the tangible gaps between him and his idol. Such an approach yields breezy irony, but glosses over the fact that regardless of his model, he is a tremendously stylish and exciting player in his own right, and that he made fine progress in 2011.
The issue, which I've touched on before, is that it's hard to see where any sudden improvement will come from. What can be 'fixed' in order for him to join the elite? Perhaps tinkering around the edges – the backhand needs to become steadier – will be enough, and greater mental fortitude and stamina will do the rest. He'll become stronger with time, and that might be all he needs. He will undoubtedly rise further next year, but the real question is whether he will ever become the next Federer, or whether he's already the next Gasquet (a position that will remain occupied for the foreseeable future).
Ryan Harrison
Current Ranking: 79
Ryan Harrison's win over Raonic at Indian Wells was among the more memorable matches that no one will remember, and he fought hard in going down to Federer the round after. His loss to Marin Cilic at the US Open was memorable and forgettable, too, albeit for different reasons. Both matches illustrated how far this group has come.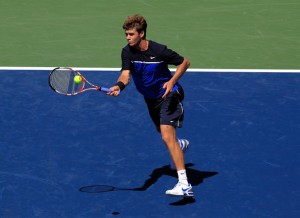 Indian Wells was considered an upset, Harrison's 'arrival' as it were. By September, Harrison hadn't achieved anything astounding – a few semifinals in the smaller lead-ups – and yet he was expected to defeat Marin Cilic easily. He didn't go down easily, it's true, but he did go down noisily.
He has the game to rise much higher, and his inflated sense of entitlement probably won't hurt in the short term. But it was apparent that he believed too readily in his destiny against Cilic that day, which is a ludicrous proposition from any angle. You can feel entitled, but a sense of proportion helps, too. Cilic worked hard and took the win. Harrison tossed his racquet around and shouted a bit, and didn't.
Ricardas Berankis
Current Ranking: 125
Alone among this group, Ricardas Berankis receded this year, after last year finishing as the youngest player in the top 100. This was mostly due to injury, and he only played 18 matches. It was a shame, since he began the year strongly. Nonetheless, I harbour a suspicion that even fully fit he will struggle on the main tour. Time will tell. Paul Annacone's wonderfully insightful Twitter updates have revealed that Berankis is working with Federer in the offseason. That can't hurt.