The 2012 tennis season is barely hours old, and no 'official' matches have occurred, but already David Ferrer has staged a dogged fightback, Novak Djokovic has won comfortably, while Gael Monfils entertained enormously in posting an inevitable loss. So much for new beginnings.
Of course, Abu Dhabi is just an exhibition, although I am personally not fond of 'exhibition' as a blanket term, since it covers too many disparate events. If Nadal plays a one-off match for the benefit of his foundation, for no remuneration, then that is categorically different from swanning in to the UAE to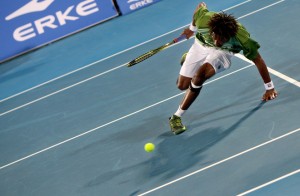 play a couple of meaningless tune-ups for a million bucks. The events occurring the week before majors – such as Kooyong – are a slightly different matter again. Mostly what relegates these various shindigs to exhibition status is the format, since they feature tiny invitational draws. We may therefore define an exhibition as being any event that lacks ATP endorsement, with the consequence that the results do not figure on the official records. As I say, it's a capacious definition, and gives the casual viewer few clues on how to approach them. Charity exhibitions have pre-decided outcomes, and are heavily laced with farce and crowd interaction. Warm-up events, on the other hand, can prove every bit as serious as an official tour match.*
It is remarkable how important the ATP's imprimatur remains. This importance cannot be measured in appearance fees – although hopefully no one believes that five of the top six players are gracing Abu Dhabi out of charity – but it can be measured in effort, although the potency of this distinction has lately become diluted. If 2011 was the year of Djokovic, it was also the year of the precautionary retirement – cynics might unfairly suggest that the two are related – whereby many top players would retire from any match they no longer believed they could win, assuming they could blame it on a suitably obvious niggle. Thus we saw Djokovic pull out of the Cincinnati final while down a set, but one week later mount a US Open campaign about as gruelling as traversing the Kokoda Track without legs. This was by no means an isolated example; the season was littered with them, to the point that this behaviour became normalised, and to even remark on it came to seem like carping. Thus does base expediency become dignified as tactical nous.
In any case, this kind of behaviour was once a useful way of telling an exhibition from a 'real' event, since it was common at 'exhos', whose organisers well understood that no player would risk injury on their behalf (although this would depend on the guarantees surrounding the appearance fee). When Tsonga basically gave up in the third set against Ferrer tonight, the immediate and classic response would be that this was fair enough: it's just an exhibition.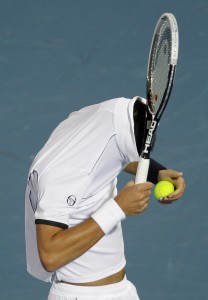 What was more depressing, however, was how such an explanation wasn't even necessary. Giving up just looked . . . . normal. This was a shame, since the match had been pretty good up until that point, especially that pivotal second set tiebreaker. Sadly, the last few games were entirely perfunctory.**
Djokovic and Monfils served up more traditional exhibition fare – trading tweeners and other sundry trick-shots, as well as some truly monstered forehands – although as the world No.1 tore through that opening set it tasted more like nouveau Djokovic, with added spice. (Okay, no more hackneyed food metaphors. They leave a bad taste in the mouth.) Was it significant that Djokovic's first rally of the 2012 season ended with an immaculate backhand winner up the line? Perhaps. He did seem to be playing with greater pace than usual, hopefully reflecting his coach's recent comments that enhanced aggression was a goal for the coming year. We can only pray this increased pace occurs between points as well as during them. There has been plenty of discussion concerning Djokovic's motivations for this year, though I suppose limiting his inclination to dawdle before serving is too much to hope for. Let's pray it's a goal for the umpires, at least.
* For a good example, try the sternly-fought Kooyong final of 2002 between Agassi and Sampras. It can be downloaded here.
** I do not mean to suggest that Tsonga retires easily as a rule. If anything it is the opposite. For example, two of his three victories over Federer were monumental comebacks.