Basel, Semifinals
Nishikori d. (1) Djokovic, 2/6 7/6 6/0
(3) Federer d. Wawrinka, 7/6 6/2
Kei Nishikori has, in his quiet and enthusiastic way, figured among the brighter stories of the so-called Fall season, his achievements outshone only by those of Andy Murray, blindingly good in Asia, and Janko Tipsarevic.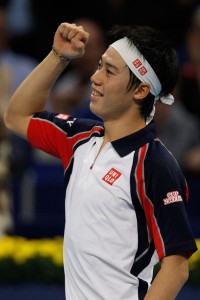 As with the latter's unrelenting failure to claim a maiden title, Nishikori's fabled pursuit of Project 45 – whereby he would become the highest ranked male Japanese player of all time – had developed into one of the most intriguing of the Tour's innumerable side-narratives.
Nishikori broke into the top 50 for the first time in April of this year, and appeared to be rising fast. However, in the long months since, he twice rose agonisingly to No.46, before subsiding fitfully. Doubts were expressed, and much like Tipsarevic's pursuit of silverware, the inevitability of the accomplishment began to look questionable. Then, three weeks ago, he reached the semifinals of the Shanghai Masters, and overshot his ambition by some margin, climbing to No.30. Again like Tipsarevic – who eventually claimed his first title in Kuala Lumpur some weeks ago and then almost immediately claimed his second in Moscow (and nearly had a third in St Petersburg) – the realisation of Project 45 has opened something of a floodgate. Today he became the first Japanese man to defeat a reigning world No.1. By beating Novak Djokovic, soundly, he has guaranteed a ranking of at least No.25 next week. If he somehow defeats the greatest player of them all in the final, he will climb to around No.21. Win or lose, I suspect he will be recalibrating his expectations for 2012.
Coming in to today's semifinal, the prevailing odds were not kind to Nishikori's chances, and. they saw little revision as the top seed tore through the opening set in fine fashion. Much will naturally be made of Djokovic's shoulder, which received constant treatment and will probably see him withdraw from the Paris Indoors next week, but it hung together well enough for the Serb to come within two points of the match, with Nishikori serving at 4/5 in the second. There is such a thing a close bagel, with all of the games going to deuce, but today's third set was not an example of this. Djokovic won about a dozen points. Nishikori was fearless, but then he usually is, and executed perfectly, which is an exciting new development. The dexterous net exchanges were superb.
In the final he will play Roger Federer, who didn't have too much trouble seeing off Stanislas Wawrinka in straight sets, bringing their head-to-head to 10-1. It will be Federer's sixth consecutive Basel final (eighth overall), and, should he win, his fifth title. Figuratively, we might say that he owns this event.
Valencia, Semifinals
Monaco d. (1) Ferrer, 7/5 1/6 6/3
We can literally say that David Ferrer owns Valencia, which means that we can assume that the event will have Hawkeye next year. It is only one of two 500 level tournaments that lack the technology, which some have called an 'oversight', suggesting it was on that part of the To-Do list obscured by a coffee cup. In any case, for Ferrer, the lack of Hawkeye has led to the worst kind of injustice imaginable: the kind that affects him. He thought he had saved a breakpoint with an ace, but it was called out. The dummy was spat, the overrule was not forthcoming, and the impossibility of recourse to Hawkeye was duly noted. Schadenfreude was forthcoming. Ferrer lost to Juan Monaco, who will face Marcel Granollers in the final, an incongruous line-up for an indoors hardcourt event, although it is the slowest hardcourt on the tour. Apparently the balls are flat, too.