Paris Masters 1000, Final
(3) Federer d. (6) Tsonga, 6/1 7/6
Federer's eventual victory at the Paris Indoors was no more foregone than it was ordained, but as the first set unfolded today in the Palais Omnisports de Paris-Bercy, it might have seemed that way. After a decade of near misses, Federer was in the final, and on fire. Surely the moment was at hand. However, a sense of entitlement is a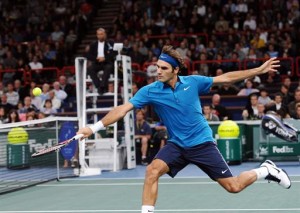 fraught thing for a fan to feel, and perilous for a player, although there was never any danger Federer would take Jo-Wilfried Tsonga lightly, given their recent history. That Wimbledon quarterfinal, in which Federer refunded a two set lead, surely remains jagged and open, and might always. Hubris is only attractive when punished, but who can begrudge hope?
Initial difficulties had not proved indicative. Obliged to fend off break points in the first game, Federer broke Tsonga in the second, and about 20 minutes later held the set. Tsonga was no doubt wearied from his toils astride Isner the day before, but to be frank he didn't look too haggard. He just wasn't playing very well, his serve ill-directed, while Federer was dialled in from the get go.
Over the years, more has gone wrong for the Swiss at this tournament than at any other, and often it has gone wrong from a set up. Tsonga lifted, and the games grew tight. Hope wavered, faced with the prospect of another inspired opponent storming back. Federer fended off a break point in the seventh game, as did Tsonga in the eighth. Then it was the third seed's turn to lift. The Frenchman sputtered and lurched to the tiebreak, while Federer flowed, his liquid whip forehand snapping crisp winners through a pair of love holds. Momentum can shift in a tiebreak, or it can't. Today it didn't, and the assertiveness with which Tsonga had commenced the second set continued to drain away. The errors were soft and Federer's first serve grew scathing. A couple of match points arrived and dutifully departed – a deft drop shot and a crashing serve. Recall that Federer now requires a buffer of three in any big match. He served, they rallied, and a last Tsonga forehand sailed long. Federer pivoted to trace its arc, the last stroke of the regular 2011 season. As the ball found the court, he lifted his face to the crowd and his arms to the roof.
Afterward he seemed tangibly thrilled to heft the frozen liquorice trophy, its cluttered modernity – simultaneously echoing the inelegant wrought iron of the Paris Metro and the lethally tangled wreckage of the Somme, or something – wholly in keeping with the European indoor events, which are determined to outdo each other in this regard.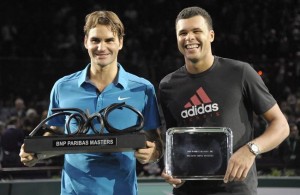 He confessed in his modestly fluent French, translated with dogged approximation by Robbie Koenig, just how much this title meant to him, and for a wonder it sounded heartfelt. He added that his sick daughter had crawled into bed at 4am that morning, and that this had not been the ideal preparation. Koenig rendered this as something to do with having kids, which rather missed the point.
The point was that winning these things isn't getting any easier, and for reasons that aren't always predictable, though they add up just the same. The combination of fatherhood and sustained excellence immediately ushered Agassi to mind, as did the fact that Federer joins the Las Vegan as the only men to claim both Roland Garros and Bercy, and the only men to have won seven of the nine different Masters events (Nadal and Djokovic are both on six). As Chris Masters earlier exclaimed with such vigour, and a breezy contempt for the language: 'His longevity just keeps going on and on and on!' Next week in London he will seek to extend his longevity still farther, to become the only man ever to win the year end championships six times. He will enter as defending champion, on a twelve match winning streak, as the finest indoor player in the world. He has held that status for years, of course, but finally he has the sport's most famous indoor title to prove it.