Kuala Lumpur, Final
Tipsarevic d. Baghdatis, 6/4 7/5
Janko Tipsarevic was, until earlier today, the most notorious player in men's tennis to have never won a title, a rankling accolade even in lean times, but surely gougingly painful in a year that has thus far produced nine first-time champions. Even Florian Mayer was in on the action. Tipsarevic dutifully insisted that his lack of a maiden title meant nothing – the mating cry of the perennial also-ran – that as long as he was winning and earning, that was all that mattered. We could say that he was merely seeking to lessen the burden of expectation on himself, but it is hard to imagine that he believed what he was saying, either. Did anyone?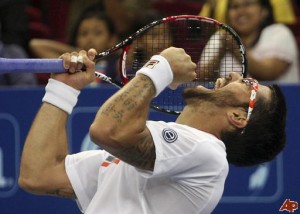 Bemused and sceptical pundits wavered momentarily. Were we merely imaging that sturdy monkey on the Serbian's back, the one that pressed its claws deep whenever a title seemed within reach, the one that did for him at Del Ray, and crippled him in Eastbourne? It looked crushingly ingravescent, that expanding ape, but according to the man himself it was scarcely noticeable, and easily preferable to lugging around trophies, which is notoriously dangerous work.
After Tipsarevic had contrived to serve out the match – it took multiple forays, courtesy of a belatedly-dogged opponent, and the ceaseless ministrations of that monkey – it suddenly seemed as though titles were all the thing. Overwhelmed, Tipsarevic sounded like George Costanza promising his secretary a raise at the point of orgasm. First he promised Baghdatis a certain return to the top ten. Then he guaranteed the tournament itself that 500 status was merely a matter of time. Just so it is clear, neither of things lie within Tipsarevic's new-found power to grant.
My stream went dead before Baghdatis could offer a rejoinder, although he was clearly in the mood to. Interviewed first, the Cypriot endured the formulaic blandishments with reasonable grace, but when the interviewer remarked on his wonderful season, he wasn't about to let that slide: 'Actually, I've had a terrible season.' This inspired a throw-me-a-bone-here routine from the lady with the mic, and Baghdatis looked disconsolate and bone-weary and bored from having to engage with this crap at all. Throughout the match I'd been struck by his introspection, how lonely he looked, precisely unlike the brash youth who'd swept so many before him five years ago. Careers don't always turn out like they should.
Still, Tipsarevic at 27 is proving it's never too late. He leaps five spots to No.12 in the world, supplanting Viktor Troicki as the No.2 Serbian. His aim for 2011 was a top 20 finish, an apparently ambitious goal for a late starter only now getting his act together. If it has turned out he aimed too low, we can hardly begrudge him some caution, it hasn't mattered anyway. Like the title he now has but never cared about, it's all just gravy.