And so we have arrived at that point in the season when even hardcore tennis fans – historically a penalty for larcenists and false witnesses – find it hard to get motivated to follow the sport, unless they find themselves mired in Metz or Bucharest for whatever reason. The Davis Cup semifinals effectively drained whatever scant reserves remained after the US Open, leaving us groaningly supine on the floor. (Hang on, that was somebody else.)
I suspect I'm not the only one whose determination to follow the continuing adventures of, say, Juan Ignacio Chela is at a low ebb.
Insofar as it gives us something coherent to look forward to, the ATP's Asian Swing initiative can be considered a success, but that won't commence until next week, and, unlike last year, it is doubtful whether a player of Rafael Nadal's calibre will be gracing Bangkok. (For starters, he's pretty dinged up. Secondly, his unlikely semifinal exit to Guillermo Garcia-Lopez from last year's event – in which he blew no fewer than four thousand break points in the second set – probably retains some dire juju.) Anyway, even these meagre offerings are a week away, which makes the profound incongruity of the current events in France and Romania – really, clay? – even harder to fathom, and almost impossible to get aroused by.
With that in mind, and conceding that for most people the season has more or less ended – tennis will flash briefly back into consciousness for the Tour Finals and the Davis Cup finale – it's worth looking at what the rest of the year holds. What are the things to look out for, the narratives to follow? While there are no more majors, that doesn't mean the top players cease playing, even if some of them will not emerge from their pleasure palaces for some time yet. There is also a host of players for whom the slick lurid indoor courts of Europe represent the most attractive part of the season. And of course, there are the incomparable trophies, each a lavish monument to kitsch.
The most notable thing we won't be seeing, at least until Basel or even Paris, is the world No.1. Novak Djokovic has a muscle tear in his rib, and will remain absent for at least a month. I think he's getting married or something as well. Apparently Andy Murray will be his best man. Does anyone else find it jarring the way top players refer to each other in the press by their last names, even when they are close friends.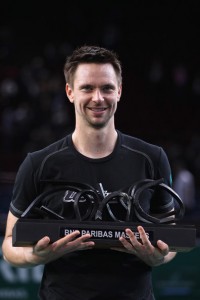 Thus Djokovic will call Murray 'Murray' in his press conferences. Try referring to your closest friend by their surname for a day, and see how it feels. In any case, 'Djokovic' will be back just in time for the World Tour Finals. Winning at the O2 Arena will be a tough assignment without adequate match play, although this was a trick Federer used to pull.
Speaking of Federer, he will be the one to watch, since, probably for the first time ever, he finds himself in the position of having to defend fistfuls of points at the end of the season, courtesy of the sustained tear he went on last year upon hiring Paul Annacone. This run gained him three titles and over 3,000 points, but means that he has far more at stake than anyone else as 2011 grinds down. Of course, he won the Tour Finals in spectacular fashion in 2010, defeating Nadal, Djokovic, Soderling, Ferrer and Murray for the loss of a single set. If he doesn't match that, there is a reasonable chance he will end the season at a modest No.4, although this will depend on Murray's performance.
Of course, 'depend on Murray' is a phrase that should see only ironic deployment. I don't want to imagine what will happen if he is in charge of organising the stripper for Djokovic's bachelor party. (Actually I lie; imagining mishaps involving strippers is always worth the effort.) Other things to look forward to:
The dusted pink and purple court of Basel.
Players entering the court accompanied by naff theme music and light shows.
Delighting at whichever Frenchman brings the Paris Indoors to life.
Finding out whether Diego Maradona will again grace the O2 Arena, and if so, whether he will still have a cameraman assigned to finding him in the crowd.
Discovering whether David Nalbandian will realise his purportedly boyhood dream of winning the Davis Cup, on clay, against Spain, in Spain.
Whether the crowd in Shanghai remains as maniacally excitable as last years, when they gasped and hooted at every let, ballboy stumble or stray seagull.