Los Angeles, Second Round

Through no fault of mine, the US Open Series gathers momentum, or more accurately mass, with the consequent increase in gravity drawing in more and more high-quality protagonists from elsewhere in the cosmos.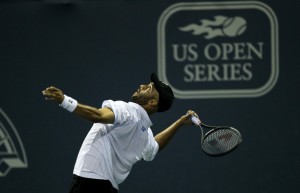 Some are even European, although the bulk of those continue to pursue ludicrous silverware in such renowned hotspots as Umag and Gstaad, and the very best remain walled-off in their pleasure palaces. It follows that those in LA are not the very best.
Which brings us to Ernests Gulbis, who for the first time since Nice has strung together enough wins that it can now be considered a trend: two. He's trending. He next faces Juan Martin del Potro, so it's doubtful the practice will become habit forming. Del Potro saw off James Blake in a pretty entertaining night match, the kind of match that Blake's fans gravely profess to find encouraging, since it apparently betokens good things to come. They will continue to feel this way until the very end, which Blake continues to insist he hasn't considered, whilst somehow maintaining a straight face.
As for fans of Delpo, the interminable gestation is complete, and the hour of full rebirth at hand. Since his tour return in January – recall that initial agonising marathon with Feliciano Lopez, gravid with promise – the sanctioned view has been that it didn't matter how well their hero played, since his comeback was such a long-term project. It was unreasonable to expect anything until the US summer. 'US Summer' rapidly became a mantra, and the lustiness with which it was chanted neither swelled nor diminished with each triumph or failure, remaining as childishly on-message as the political advertising aimed at swinging voters. The titles gained along the way were nice, but they were merely gravy, as inconsequential as the losses, which have been few.
Well, here we are.