San Jose, 2002, Final
Hewitt d. Agassi, 4/6 7/6 7/6
When the time comes to compose the definitive history of tennis – doubtless to commemorate a milestone in the game's development, perhaps its passing – there will almost certainly be no mention of the Hewitt Era. There was little mention of it at the time, which says a lot given the prevailing mania for christening historical epochs even as we live through them. For all that Lleyton Hewitt spent some 80 weeks at the top of the singles rankings,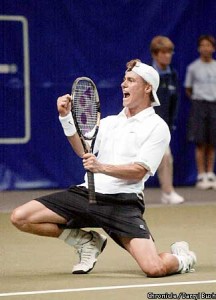 and twice ended the year in that position, it rarely felt as though he was indisputably the best player in the world, and more that a rotating cast of others took turns at being sporadically better or generally worse.
However, this leads us into the trap of thinking that Hewitt wasn't a very good tennis player. He was. At his finest, he was both technically and mentally impregnable, and surprisingly fearless. However, his very best periods – there were two of them, occurring almost precisely three years apart – only partially overlapped with his time at No.1, and this is part of the problem. For at least 50 of those weeks atop the rankings – the last 50 – he was not at his best. The latter part of his reign was frankly disappointing, marred by an overwhelmed tentativeness bafflingly enabled by cowed opponents. Based upon how his stint at No.1 ended – grimly and precipitously – it is easy to forget how differently it began.
A great deal had to go right for Hewitt to ascend to No.1, but that a great deal did go right owed little to luck. He played some scintillating tennis on the way up, with the highlights including an 83 minute demolition of Kafelnikov in the 2001 US Open semifinal, his mauling of Sampras in the final, and, perhaps most strikingly of all, his consummate manhandling of Kuerten in the Davis Cup quarterfinals, on a very dodgy clay court in Florianopolis. But as happens to so many once they gain No.1, they discover that the threadbare cliché about preferring to be the hunter rather than the hunted has a firm enough basis in fact. It certainly did for Hewitt. By mid-2002, his matches were mostly dour attrition-based affairs. He lost his backhand up the line, and the depth on his groundstrokes, although that wasn't enough to stop him claiming the worst Wimbledon in living memory. His top ranking slipped away for good in mid-2003, and by the end of that year he wasn't even ranked in the top ten. Hewitt would resurface a stronger and more rounded player in the US Summer of 2004, but by then the top spot was beyond the grasp of anyone not named Roger Federer. In the US Open final of that year, Hewitt played as well as a world No.2 should, and was bagelled twice.
In February 2002, most of this lay in the future, but not the distant future. The free-spirited lad with nothing to lose was scant weeks away from vanishing for good. The final of San Jose that year thus represents an interesting moment:  Hewitt as world No.1, but still playing like he isn't. Partly this is to do with how his year had gone to that point. Forced out of the Australian Open with chicken pox – where he has never played without immense pressure, mostly self-imposed – this tournament was in many ways the start of his season. Coming into the week,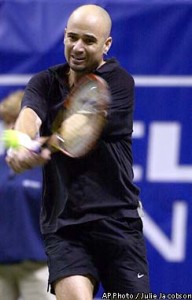 he had insisted that he didn't expect to win the thing, which was the kind of thing a world No.1 could say back then, before we grew accustomed to the world No.1 winning everything. I suspect he was even telling the truth, and certainly he came close to losing early, saving match points against Paradorn Srichaphan.
Awaiting Hewitt was a sternly-goateed Andre Agassi, whose 2002 had so far proven about as memorable as his opponent's. The American's travails commenced on the eve of the Australian Open as he withdrew with an unspecified wrist injury, and he hadn't played since. Like Hewitt, San Jose was thus a chance for the American to reset the season. He was certainly crooning from the same songbook as the week wore down, to the nonchalant tune that he was just happy to be there, and that match practice was the sole aim. This constantly reprised chorus compelled us to calibrate our expectations for the final accordingly low. When it proved to be a classic we were therefore appropriately astounded. As Hewitt would now insist if asked, or even allowed near a spare microphone, it featured some 'tremendous ball striking.'
Agassi took the first set, looking, as ever in this match up, like a man facing down a boy. It seemed he always made the early going, with Hewitt appearing out-scaled and out-gunned. Mostly it was an illusion of size. Until 2005, when Hewitt bafflingly attained a heroic musculature closer to Nadal's (or Achilles as imagined by Brad Pitt), he cut a slight figure. But he'd fashioned an already notable career by slaying giants, and he certainly never felt overmatched. Agassi knew how close the first set had been, and that these things can turn quickly.
Nonetheless, the American still made the play in the second set, and Hewitt was compelled to do little more than hold for the tiebreak. The tennis lifted towards the heights, and the commentators, never reserved to begin with, began to giggle and gasp involuntarily after each point, as though they couldn't believe their luck at being there. By the time Agassi arrived at match point – 6-5 in the tiebreak – they were gasping during the points. Hewitt, as was his way at the time, but has hardly been since, launched a sustained attack, hitting Agassi off the court in a bruising rally, then acing him, and then sealing the set with a backhand winner up the line that left his opponent stranded and the commentators breathless. It was his 30th winner of the set.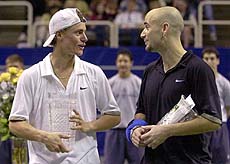 From Open, we know that Agassi was not yet employing polyester strings, and I'm not sure that Hewitt was either. Something to bear in mind, for nine years later, this kind of sustained rallying has become de rigueur, if not a little passé, but back then to see rallies conducted at that pace, with that level of control, was a rare treat indeed.
As the third set progressed, the tennis attained those promised heights. Agassi broke for a 3-1 lead with a tremendous inside-in forehand winner. He had not yet been broken for the day, and it seemed likely he would ride that advantage to the end. Hewitt again stepped up the pace, scampering desperately, and earned the break back. The world no.1 scraped out multiple breakpoints in a marathon game at 3/4, repeatedly surging forward into forehand winners. Agassi in his autobiography payed Hewitt a sterling compliment when he declared him to be one of the 'best shot-selectors' in the history of the game, and that aspect of Hewitt's repertoire was on ample display. Naturally there were errors – that used to be a part of the game – but there were almost no mistakes. Check out the point with Hewitt serving at 30-0 5/6, when the Australian pulls off a sprinting one-handed backhand pass that even Tsonga would envy. He also saves a championship point with a clutch ace up the middle.
Inevitably, the decider was decided by a tiebreak. The point of the match came with Hewitt leading 4-3, an all-court classic featuring ferocious Agassi drives, desperate Hewitt defence, drop shots, a lob volley and a tweener. Hewitt took the point, and Agassi's blankly resigned face said it all, recalling countless moments against Sampras: a caving in to the perceived will of fate. A couple of Agassi errors later, and Hewitt was on his knees, the champion.
For both Hewitt and Agassi, San Jose 2002 provided decisive impetus. Hewitt would capture his first Master's series title in Indian Wells several weeks later, while Agassi would claim his 14th in Miami the week after. They would end the year ranked Nos. 1 and 2, with the American becoming the oldest man ever to claim second spot, at 32 years and 8 months. Hewitt would go on to win Wimbledon and the Tennis Masters Cup, and lose to Agassi in a tough semifinal at the US Open, but after Indian Wells he was never the same player. By the middle of 2003 the Hewitt Era, such as it was, was over. Although he would re-emerge as a more rounded and accomplished competitor in 2004, the exuberance and dash of youth had crumbled away, ground irreversibly to dust beneath the weight of the No.1 ranking.
Unfortunately I can no longer find this match anywhere online. If anyone knows where it can be viewed or downloaded please let me know.