Wimbledon, First Round
Tomic d. (29) Davydenko, 7/5 6/3 7/5
Hewitt d. Nishikori, 6/1 7/6 6/7 6/3

Last week, my boss participated in the CEO Sleepout, a fund raising event at which scores of managing directors and politicians and sundry men-about-town were granted the opportunity to spend a night out on the street, the better to lobby each other away from prying eyes, much like real homeless people do.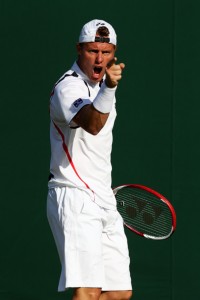 Commendably, various millions of dollars were raised. More importantly, following a night of privation, soul searching and light drizzle, many of Australia's top executives now know exactly what it feels like to queue for tickets at Wimbledon. Success had more or less insulated them from this type of experience, which differed from the London one only insofar as it lacked vocal knots of canary-yellow clad hooligans bellowing 'Come On!' at the insistence of passing reporters. Wimbledon's official Australian broadcaster has changed this year, but the clichés haven't, including these tired interviews with the tedious Fanatics, yet another example of television bringing people into our lounge room we wouldn't otherwise allow into our house. A night on the footpath had done them few favours, although their penchant for lusty exhortation appeared undiminished.
Speaking of fanatical patriotism, Channel 7 has recycled their idea of putting a little Australian flag next to the Australian player's names, an idea they unleashed to such cringeworthy effect at the Australian Open. Presumably market research has suggested that many viewers don't know who the Australians are, and are at risk supporting players for reasons other than citizenship. It was discovered that otherwise red-blooded Australians were even supporting foreigners. As ever, there are no flags next to the foreign player's names. Thus the merely casual viewer might have wondered where, say, Juan Ignacio Chela hails from, though there were granted enough information to know they wanted Marinko Matisevic to thrash him. As it happened, he didn't thrash him, though he did eke out a set.
For Australian fans thus enamoured by accidents of birth, the heartwarming news is that both Lleyton Hewitt and Bernard Tomic won three sets each in their matches, and were summarily awarded victory. Tomic's victory was on paper an upset: straight sets against the No.29 seed Nikolay Davydenko.
However, 'hard' barely begins to describe the times Davydenko has fallen on, and he was never much chop on grass, anyway. Tomic, on the other hand, has performed well as a junior here, and his fundamentally weird and arrhythmic approach would have posed issues for the Russian even in the latter's prime, which was all of 18 months ago. Still, straight sets . . . Hewitt had a rather tougher time of it against Kei Nishikori, who made the semifinals at Eastbourne last week, and thus joined a host of players in proving that doing well the week before a major is about the worst preparation possible. (The Nice curse strikes again; both Tipsarevic and Dodig are also out.) That being said, Hewitt is hardly a gimme first round at Wimbledon. Today he played well in patches, and the old fight remains. A willing spirit counts for a lot, especially here. Men's tennis may have moved on, but on grass it hasn't moved on quite so far. Variety is still amply rewarded, and an experienced campaigner with the ability to explore more of the court can make hay, ironically in the first week when the sward is lushest. Of course, it still favours big serving, too, a fact that Milos Raonic is celebrating by championing a return to short shorts.
It is for this reason – variety, not short shorts – that the Philips Kohlschreiber and Petzschner were expected to go far. Both were finalists in Halle, where both displayed their excellent grass pedigree. Kohlschreiber, however, fell to Denis Istomin for no reason at all, while Petzschner went down to Robin Soderling in an entertaining four-setter. He could well have won it, but will now become merely the first step in a very tough draw for the Swede, who next faces Hewitt. Channel 7, via the miracle of the promo, has already commenced explaining to me that this will be rather a big deal, and that I'd do well to get behind Our Lleyton, if I know what's good for me.