Roland Garros, Day Eight
Fognini d. Montanes, 4/6 6/4 3/6 6/3 11/9
The opinion has been aired that the finale to today's astonishing fourth round encounter between Albert Montanes and Fabio Fognini could not be scripted if you tried. This is incorrect. It honestly wouldn't be that hard to come up with something like this, assuming the writer has a knack for absurdity, and a willingness to sustain it.
The real issue is that any movie produced from such a script would be laughed out of theatres as being too far-fetched, and this is from audiences willing to countenance midi-chlorians, or Gwyneth Paltrow as a sex symbol. Even Wimbledon did not go so far.
That said, if ever Richard Curtis gets around to making Roland Garros, Actually, he could do worse than cast Fognini in the lead. First of all, he has the looks, and is now the only bona fide dreamboat remaining in the draw (apart from Ivan Ljubicic). Secondly, the man knows drama, and indeed the casual tennis fan might know him for little else. Recall his match against Gael Monfils here last year, or his final against Tommy Robredo in Buenos Aires back in February, which ended with the Spaniard refusing to shake hands, and Fognini screaming 'Pedazo de Mierda!' at him.
Today's encounter began tamely enough, with Montanes eking out a tight first set, and Fognini roaring back in the second. They traded the next couple, but when the Spaniard moved ahead in the fifth, it looked like superior clay court pedigree would carry the day. The fifth set, so the saying goes, is all about nerves, which Montanes set about demonstrating as he stepped up to serve for the match at 5/3.
From there on it was only nerves, until it was all Fognini. Four hours in, and the match got interesting. Even the French crowd – whose disloyalties were until this point evenly split – felt compelled to sit up and take notice.
Fognini broke back, and now it was Montanes clinging desperately on. A few games of this ramped up the tension up nicely, although Fognini – dramatically speaking – was just getting started. Serving at 6/7, he apparently wrenched his left quad, and stood very still at the baseline for a very long time, whereupon the umpire ambled over and duly permitted an impromptu time out. The fans, roused from slumber and now to ire, made their displeasure plain, and the match referee strode on to court soon after, demanding to know why a player was receiving a mid-game time out for cramp, which is a no-no. Fognini played it cool, and the medic played it coy. Neither would admit to cramp, Fognini shrugging away the ref's queries in a winsomely Gallic fashion, which failed to get the crowd back on side. He returned to court, but he could no longer move properly. Somehow he served out that game.
Even more astonishingly, Montanes was unable to exploit his opponent's mobility. If the Italian had to venture more than five steps he didn't bother, but swung lustily and effectively at anything straying within reach, which, bafflingly, was just about everything.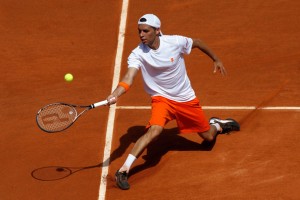 'Never a backward step' is an admirable credo, but there are limits. After a half-dozen foot-faults, we could surmise that Fognini had more or less conceded the impossibility of victory. He steadfastly refused to take a step backwards, though Montanes proved equally intractable in not drop-shotting and junk-balling his way to a legitimate and inevitable win.
Still, despite his best efforts the Spaniard earned five match points, which vanished in a fog of winners and net-cords. Then at 9/9, Fognini broke. He couldn't move, but he didn't have to. Montanes just could not hit the ball away from him. The Italian moved to 40-0. A stinging return erased one. A twelfth fault-fault did for the next. Then Fognini won, with a deft backhand drive up the line. The result merited a stunned silence, but the crowd was roaring and hissing and clapping and snarling and booing, as French crowds do. Fognini's camp went bananas, though the man himself looked merely bemused as he limped towards Montanes' impatient handshake. Fognini is through to his first major quarterfinal. This is where the adventure ends, even if he can take the court. He faces Novak Djokovic, who has no qualms hitting the ball away from anyone, no matter how mobile.
Still, thank God for this match, since otherwise today's pickings were slim. As they did in Indian Wells and Melbourne, Federer and Djokovic have collision-course scrawled all over them. Both played immaculately today, but it's hard to find much new to say about Federer straight-setting Stan Wawrinka, or Djokovic straight-setting anyone.