Monte Carlo Masters 1000, Quarterfinals
Melzer d. Federer, 6/4 6/4
It is a fine point whether losing to his close contemporary and closer buddy Jurgen Melzer will scar Roger Federer more deeply than losing to, say, Rafael Nadal, or even to a streaky youngster like Ernests Gulbis. After all, in all the long years Melzer and Federer have been on tour – they have been friends even longer, since the juniors – Melzer had never won a set. This is of course a misleading stat: until Wimbledon last year they had yet to play, a vagary of the tour. How envious Melzer must have felt, looking forlornly on as Federer mauled allcomers through the middle part of the decade, plaintively wondering 'What about me?' In the last nine months, the Swiss has made up for lost time, inflicting three straight set defeats.
Today Melzer returned the favour, with a stunning display of flat hitting, deft volleying and clutch serving. Although the match was closer than the scoreline suggests – most of Melzer's service games seemed to feature a deuce or two – Federer was emphatically outplayed in all departments. This is probably the part of it that rankled most. Federer was naturally plauditory for his friend afterwards, though he has to be,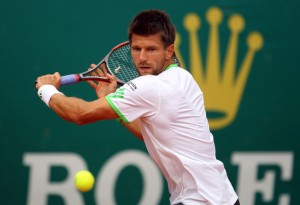 given the rapacity of the media response if he even hesitates in his praise. Federer generally insists, if asked, that he moves on quickly from defeats, and for the most part I believe him. His life, after all, is pretty swell. But I suspect it was the comprehensiveness of today's loss that will stay with him. Melzer was better all over the court. Some random stats to fuel or refute the discourse of decline, depending on your bias: Federer was 0/7 on break points, although Melzer was especially Federer-esque at those moments. Without a comprehensive fact-check, I have a feeling this was the first time Federer has lost to a lefty other than Nadal since 2003. Stats like these inevitably litter the downward slope. Make of them what you will.
For Melzer, this win affirms his continuing rise through the rankings, which was obviously not the result of luck, although Verdasco and Roddick's collapses have aided his percolation upwards. The Austrian has now defeated Novak Djokovic, Nadal and Federer in the space of ten months (none of them on their preferred surface), which is precisely the kind of sporadic prowess one likes to see from the No.8 player in the world. He will play David Ferrer in the semifinal, and if he reproduces today's performance, another upset is entirely likely.