Monte Carlo Masters 1000, Second Round
Raonic d. Gulbis, 6/4 7/5
Can you envisage the chaos that results when bandwagons collide? What does a bandwagon even look like? (It looks like this.) As a metaphor for the slavish and temporary adoration some fans feel towards certain sportspeople or teams, 'bandwagon' falls short. All metaphors by definition must, but surely we can get closer. Perhaps it is more useful to think of them as band-chariots, and for the clashing thereof we need look no further than Ben Hur.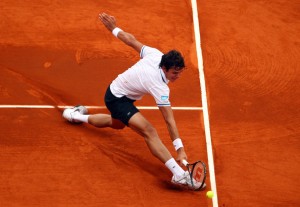 Collisions remain messy, but chariots can at least be modified for combat, and the superior model – sturdier, faster and bristling with superior ordnance – generally prevails. By that reckoning, Ernests Gulbis is last year's model, and a shaky contraption he is; powerful in his way, but shoddily put together. Quality components count for little if the rivets holding them in place pop out when the track grows bumpy, and clay tracks can grow bumpy indeed. Milos Raonic, by contrast, is an imposing design, and compensates for a lack of maneuverability with a large cannon mounted up front. Less a chariot than an M1 Abrams tank. Here endeth the metaphor.
Ever since Fernando Verdasco's unlovely and oft-derided 'real tennis' snidery in Memphis, breath has been collectively baited to see how Raonic's exuberant first strike game would translate to the clay. So far, so good, although his four wins since then have come against a pair of Mexicans with rankings requiring scientific notation, and a couple of perennial flakes whom even science can't help. In the next round Roanic will face either David Ferrer or Feliciano Lopez, meaning he will face Ferrer. It's unlikely he'll go further, but if he does there's the prospect of a rematch with Verdasco. If the Spaniard loses again, expect real tennis to give way to realpolitik. Imagine Raonic taking the match with a first serve at Verdasco's head, and managing to hit a squishy part unprotected by his hairstyle. That'd be unreal.
Ljubicic d. Tsonga, 7/6 6/4
If it's confusing why a player with Richard Gasquet's attacking capabilities would lurk so far behind the baseline, seemingly intent on blunting his own weaponry, it is frankly baffling that Jo-Wilfried Tsonga chooses
to do the same. Indeed, of the five French players inside the top 30, aside from the forward-hurtling Michael Llodra, it is the defensive Gilles Simon that stands furthest up on the baseline. Gael Monfils hardly needs mentioning, but Tsonga – at his strongest when closing at the net – is a mystery. Still, his volleys were rubbish today, so perhaps that explains it.
Ivan Ljubicic, for his part, impressed greatly, fighting back from a break down in each set with strong all-court play, including a lovely dozen-point tear late in the first, featuring typically effective serving and a few gorgeous backhand winners up the line. It was exactly the kind of tennis he should have brought to Indian Wells, and the fact that he didn't explains why he's now facing seeds so early. The French crowd clearly appreciated the effort, although they're conceivably just weary of seeing their talented compatriots loitering pointlessly near the backstop.