When the draw for the Australian Open was released, several moons ago, there was a collective moan from avid draw-watchers in caves and forest clearings the world over, draw-watching being essentially a night-cult. Once again, Rafael Nadal had been placed in the same half as Andy Murray, who himself would have to plough through world No.4 Robin Soderling to get another shot at the Spaniard.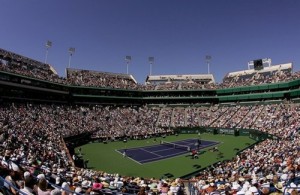 Nadal's path to Murray led through any number of his hapless compatriots. Meanwhile, in the lower portion, Roger Federer and Novak Djokovic shaped up as likely semifinalists, again . . .
This was not the first time this configuration had emerged. As it turned out, nor was it the last. Indian Wells has arrived, and here we are again. If you didn't know better, you'd think it was rigged. Many fans clearly don't know better, and stern attacks on the sport's integrity are again thickening the ether. The discursive styles of hardcore sports fans and conspiracy theorists are generally pretty alike, anyway, so its nice when they get to be both at once. The fix is in.
If Federer and Djokovic get that far, their semifinal will decide the No.2 ranking, which the ATP is hyping mightily, as though the rankings will then be frozen for eternity, or as though Djokovic didn't spend half of last year at No.2. If they get that far, it'll be worth talking about then. In the meantime, there is no shortage of imposing figures in their path, and a nebulous expectation that Djokovic's imperious form can't last forever.
There is a potential for Federer to meet Milos Raonic in the fourth round – beware the hype – and almost anyone in the quarterfinals. Watch out for that one. With three or four wins under their belt, anyone can be dangerous.
Soderling's cut of the draw is once again tough and chewy, suggesting that whoever is fixing these draws isn't a fan, or a very mindful cook. To get a chance against Murray, he'll likely have to win a third set tiebreaker over Philip Kohlschreiber – their matches invariably fly to the wire – as well as some unholy combination of Alexandr Dolgopolov (remember Melbourne), Ivan Ljubicic (defending champion) or Juan Martin del Potro (who may have pulled out). Meanwhile, it is hard to see anyone troubling Nadal before the quarterfinals, where he will quite possibly collide with David Ferrer, having honed his skills on a host of sundry Spaniards. On an astoundingly slow hardcourt – more blue clay – settle in for a long night.