Every form of human endeavour falls prey to loopy fashions from time to time, and tennis is hardly exempt. Some trends – like garish headbands or Feliciano Lopez – are destined not to last. Others endure. Think of piss-weak commentary and inside-out forehands. Those are forever, the very furniture of the sport. Only time well tell if the latest craze sweeping Indian Wells will catch on: a top player deals a lesser compatriot a stern hiding, before then taking him under his wing for a therapeutic doubles match later in the day.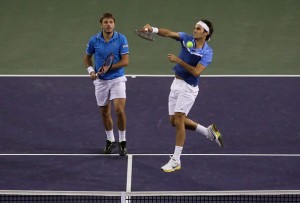 The ball commenced rolling some days ago, when Novak Djokovic thrashed Viktor Troicki love and one (a bagel-breadstick combination much favoured by the senior Serbian this week), whereupon they embraced heartily and paired up, only to go down, humiliatingly, to some actual doubles players.
Today it was Roger Federer's turn, registering another routine quarterfinal victory over Stanislas Wawrinka, before the Swiss pair fronted up for the most anticipated doubles match of recent times, against defending champions Rafael Nadal and Marc Lopez. Sadly for the cool-hunters praying this malarkey might catch on, and thus justify the fact that cool-hunting is even a thing, Nadal had not hammered Lopez in singles earlier that day, although given the way Nadal's draw has panned out this week, it wouldn't have been entirely out of the question. For the record, the Swiss team won. The commentators are fond of declaring that they play a 'traditional form of doubles', which is patently false. The full-time doubles teams play a traditional form of doubles, which is why there are none remaining in the tournament. Federer and Wawrinka play like top singles players who can volley, which is why they're in the final.
At a change of ends in the second set the organisers unleashed the Kiss Cam, proving once more that there is nothing people can't be induced to do, so long as they are commanded to via a Jumbotron. Last night a bold but plain lad proposed marriage via the big screen, a move of surpassing cheesiness that was hardly out of place in Southern California. I'm sure months from now as they thrash out their divorce, they will look back fondly at the moment when he ambushed her in front of 10,000 roaring strangers. (Jumbotron obsession was a phenomenon brought home to me whilst attending an NBA game in Boston one year, at which a zero-intensity crowd would periodically erupt whenever the words 'Go Crazy' flashed across the big screen. For the chance to be shown, people were duly and actually going crazy, capering and gibbering like lunatics, until the time out ended, and they returned to their erstwhile somnolence.) Perhaps Miami, not to be outdone, will deploy a Nipple-slip Cam, or a Lobotomise Yourself With A Hacksaw Cam. What price 'fame'?
Commentary gem of the day: 'He looks like a sword fighter out there. It looks like the racquet's part of his hand.'