ABN AMRO World Tennis Tournament, Rotterdam
Tsonga d. Dimitrov, 6/4 6/4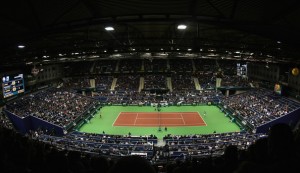 Did you know that Grigor Dimitrov has modelled his groundstrokes on Roger Federer's? Yes? I mention this purely for legal reasons since, judging by the commentary for every one of his matches, the censure attracted by not doing so is severe. No one can quite say what will happen if this fascinating fact goes unmentioned, since that has never happened. We are told that such close emulation of another player's game can be 'dangerous', which I suspect is a definition of 'dangerous' somewhat removed from, say, the CIA's, or Michael Jackson's. I can't really see the harm in it, and don't subscribe to the view that it somehow curtails Dimitrov's essential tennis personality, whatever that is. His technique is excellent, clearly, and he's young. More troubling is that in addition to Federer's strokes, Dimitrov seems determined to doggedly trace his idol's career arc. We're now at the point where initial promise is constantly frustrated, and he is overtaken by whomever the current iteration of Lleyton Hewitt is. Some lean years ahead, but he's very soon to meet his future wife.
SAP Open, San Jose
Berankis d. Becker, 6/3 7/6
Raonic d. Malisse, 6/3 6/4
Realistically, Dimitrov would probably be better served by playing San Jose, where the field is considerably weaker, and a hungry Bulgarian in search of confidence and steak could notch some meaningful results. This was clearly the reasoning for his fellow-upstarts Ricardas Berankis and Milos Raonic, both of whom today posted very solid wins over much older and more experienced opponents. Last night Raonic also had a steak, according to the crushingly dull blog he's maintaining in San Jose. Perhaps he's more like Sampras than we realised.
Monfils d. Sampras, 7/6 6/4
The stream of last night's exhibition match between Pete Sampras and Gael Monfils in San Jose was broadcast in high definition and commentated without distinction. It was all too much for my internet connection and my brain, respectively, especially when the stream would stutter to a stop whenever someone did something outstanding. This invariably involved Monfils running very fast or Sampras rushing the net. I know this because the commentator – from the 'bro' school of sports calling – would be saying things like 'Woah! Serve and volleying! That's some serve-volleying right there. Good old serve-volleying. Old-school California serve-volley!' These were not separate comments, by the way, just the one.
It was the old-school Roman philosopher Seneca who first argued that frustrated expectations lie at the root of all rage. He lived before internet streaming, yet he somehow foresaw my urge to hurl my monitor into the wall. Matching his stoicism (which was legendary), I refrained, and saved myself the cost of a decent LCD panel. But I'm being churlish. A couple of years ago I couldn't have watched tennis from San Jose at all. Last year year I couldn't watch it as a high definition slideshow. Who knows what the future might bring? Perhaps in a few years I'll be able to reach through my screen and throttle the commentator personally.
As for the match, it was the usual exhibition fare, which Monfils failed to enliven much with some usual exhibition antics, such as grabbing a camera from a photographer, or pocketing a ball that Sampras had ostentatiously mopped his brow with. It wasn't hilarious, at least not in the league of Nicolas Mahut in drag. Still, Monfils appeared genuinely honoured to be there, and said as much several times in the interview afterwards. Actually, that was basically all he said. For his part, Sampras admitted he was pleased he'd held his own, before allowing himself to be goaded into trash-talking Andre Agassi, against whom he is due to perform an exhibition in a few weeks. It was all in good fun, or would be if anything between those two could be.