Last week Robin Soderling claimed an indoor event in Western Europe, and Nicolas Almagro blitzed a clay court event in South America. Meanwhile in North America, Milos Raonic – the baby face that launched a thousand bandwagons – roared to his first ATP final, where he upset Fernando Verdasco, very much indeed. This week proved a radical departure: Verdasco was even more upset, and Memphis was Raonic's second ATP final.
Regions Morgan Keegan Championships, Memphis
Roddick d. Raonic, 7/6 6/7 7/5
Nominally a 500 level tour event, Memphis represented an increase in prize money over San Jose, but a solid downgrade in atmosphere, which I had believed impossible. It was also a step back in time, technologically, as befits a shift from Silicon Valley to Tennessee. Whereas the SAP Open featured HD streaming, or at least trickling, Memphis boasted only an ordinary stream, one largely unpolluted by the human gaze until Thursday, mainly through being unavailable. Most problematically, however, there was no Hawkeye.
While its absence provided Andy Roddick's raison du jour to blow his stack, it was legitimately missed, especially when the semifinals featured Juan Martin del Potro and Mardy Fish in addition to Raonic and Roddick, all of whom carve the lines on serve. Furthermore, Fish, like Roddick, is a world-class bellyacher. Close line calls are mere grist for the mill. Without Hawkeye, the tournament is throwing the umpires to the lions. I can only imagine the strain in, say, Fergus Murphy's jaw from biting down on retorts, especially when Fish or Roddick launch into that fatuous and hackneyed aria, 'If I missed as many balls as you, I wouldn't have a job', from a discarded draft of Cosi fan tutte.
Presumably everyone has by now at least heard of Roddick's mad scramble and dive on championship point. It capped an engaging final, a throwback to those carpet-based serve-feasts of the nineties. Everyone bemoaned them at the time, in much the same way they miss them now. Raonic, No.152 some five weeks ago, has attained No.37. Compelled to qualify for the Australian Open, at the rate he's moving he'll be seeded for the French.
Open 13, Marseilles
Soderling d. Cilic, 6/7 6/3 6/3
Predicting how a tournament will play out based on the draw is the kind of amusing but pointless divertimento I only wish I had the time for. Nevertheless, a few weeks ago I confidently essayed the suggestion that Marin Cilic would be felled in the first round of Rotterdam by a qualifier. He wasn't, and progressed to the quarterfinals. It had seemed a safe enough prediction. His form, in lockstep with his ranking, was spiralling downward. The problem with this approach is that you never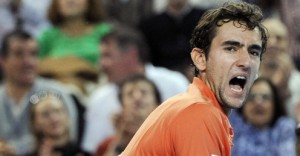 know when it's going to turn around. Suddenly, for no apparent reason other than that he probably heard about my prediction, Cilic looks a rejuvenated player. By making the final in Marseilles this week, with victories over Tomas Berdych and Mikhail Youzhny, he has reversed his slide and edged back to the cusp of the top 20.
At a set up and 3/3, Cilic wasn't a million miles from an improbable title, but Soderling has learned to win the matches he's meant to, mostly. Marseilles is his third title of a year that is not yet two months old, and he is looking alarmingly like a world No.4. It is as much in the way he carries himself as the results, and in many ways he is the most remarkable story in the sport. Two years ago, precisely no one saw this coming.