Brisbane International

Stepanek d. Kamke, 5/7 6/1 6/4
Becker d. Verdasco, 6/1 6/7 6/4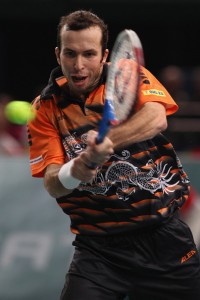 If one were to compile a crib sheet on Radek Stepanek – who today saw off the sporadically promising Tobias Kamke in three sets – there are three important things to know:
He is unorthodox and aggressive, with strangely effective strokes, capable volleys and excellent court sense.
He was once engaged to Martina Hingis and is now married to Nicole Vaidisova, despite being the least fetching male tennis player since Petr Korda. Now that is punching above your weight.
Like Korda, he embodies a rich tradition in Czech tennis of wearing disturbingly horrible t-shirts, a tradition that stretches back at least to Ivan Lendl. 2010 saw Stepanek in some humdingers, surpassed only by Srdjan Djokovic at the US Open.
Quite aside from an entertaining tennis match, I was curious to see what new sartorial travesty Stepanek might unleash in Brisbane. I was hoping for something memorably hideous, so you can imagine my disappointment at discovering the match would not be televised. Instead, the featured encounter saw Fernando Verdasco facing Benjamin Becker. Frustratingly, it was looking very much like I'd have to write about actual tennis. But then the players appeared on court, and I saw what was on Verdasco's head.
Verdasco's monumental semifinal against Rafael Nadal at the 2009 Australian Open was astonishing for any number of reasons, not least of which was the fact that even after five hours of solid exertion and litres of sweat, not a hair of his 'faux-mo' had broken formation. Undoubtedly Verdasco took a lot from this match besides confidence in his choice of hair product. However, despite oscillating form over the past 24 months, his hair style has been the one constant: his hair-helmet has been his rock, his armour. It wasn't broke – clearly it's unbreakable – so why try to fix it? For whatever reason, try he did. Gone is the rigid, glistening faux-mo. In its place is an actual mo, and not a good one. There's doubtless a Samson metaphor lurking somewhere in the mix. After Verdasco's erratic loss today, it would not be inappropriate.
I sometimes wonder whether tennis commentators really do have a crib sheet before them, listing all the essential points they must cover during the call; three or four fun facts about each player, an explanation of how tie-breaks work, that a ball landing on the very outside of the line is still in, that players cannot sit down after the first game of a set, the challenge system, why players synchronise their racquet changes with the ball changes and Ivan Lendl's role in instigating this practice. I'm genuinely amazed by their patience. Surely saying it for the thousandth time is even less fun than hearing it. How does, say, Robbie Koenig not claw his eyes out as Jason Goodall asks yet again whether he thinks Federer hiring Paul Annacone was a good move? I think I've deduced what's on their crib sheet for Benjamin Becker:
He is not related to Boris Becker. Apparently that can't be stressed enough.
He was the guy up the other end in Andre's Agassi's final tennis match.
Beating Fernando Verdasco is not a sufficiently monumental achievement to merit inclusion in this list. It was a fine win, to be sure, but mohawk or not, Verdasco just isn't that big a scalp these days.