As cavalry engagements are reckoned, the Charge of the Light Brigade is pretty celebrated, though if you only know a little of military history you might imagine the outing was a successful one. After all, Tennyson's poem isn't called the Disorganised and Bloody Retreat of the Light Brigade. Given that, it's probably essential I point out that although the Light Brigade made it farther than common sense dictated they should have – all the way past the Russian guns, in fact – it wasn't long before they were forced to fall back in disarray. Until then it had all gone so well. After that it was a rout. Of the fabled 600, almost 160 never made it back out, and not a single useful objective was achieved (which is unsurprising since they'd charged the wrong guns). I've noted already that a tactical masterstroke is sometimes just a stupid decision that comes off, and to that fairly commonplace assertion I'll add that sometimes events can be quite advanced before we can be sure either way. So it proved in Belgrade today. It was late in the piece, and it turned out Guy Forget is not a genius.
It all got under way rather smoothly. Assuming you were French, or at worst sympathetic, the initial skirmishes came off more or less as planned. It was probably hoped that Gilles Simon could have provided more impediment to Novak Djokovic – who smacked a heroic 62 winners – but he was barely a speed-bump. On the other hand Gael Monfils, with the proportions if not the colouring of a Na'vi warrior, had looked solid enough to set Serbian hearts a-quailing at the prospect of the reverse singles. Janko Tipsarevic had played poorly enough to do the same. Fittingly, but sadly not typically, the pivotal doubles proved to be the match of the tie. For a wonder it was the diminutive has-been Arnaud Clement that carried the French duo over the line, despite Michael Llodra being this month's flavour for certain pockets of fandom. Clement apparently gained some help from the Serbian lines-people, whom Bogdan Obradovic had labelled a 'dark force', which sounds disturbingly like a charge of non-patriotism from the bad old days.
And so we entered the final day pretty much as Forget must have hoped we would, with France 2-1 up, and the burden on Djokovic and Co. From there, France won exactly 15 games. 15 games in two best-of-five matches, and not enough of them in a clump to grab a set. Djokovic was magisterial against Monfils, and can now justifiably lay claim to being the most decorated player with a single Slam, assuming he's in the mood to lay claim to really obscure titles.
If Serbian fans were queasy at the thought of Tipsarevic playing the deciding rubber, they were positively vomiting when it was announced that Victor Troicki – a noted and serial choker – had been substituted, and that the French pulled a swifty and dropped Simon for Llodra. This was the same relentless Llodra who had so expertly dismantled Djokovic in Paris three weeks back. What chance did Troicki have, with the desperate hopes of his young nation riding his quivering shoulders? Did he appreciate the world-historical significance of the task? Had Djokovic explained it to him? Was he ready to heal a nation's wounds?
Turns out he was. Truth be told, after his performance today – in which he rapidly overwhelmed an overwhelmed Llodra – Victor Troicki could probably run for president and take it in a landslide. He was flawless. The most telling stat is the scoreline, which was 6/2 6/2 6/3 . Another impressive stat was Llodra – among the world's premier volleyers – winning just 10 of 41 points in the forecourt.
If you're Serbian – or at worst sympathetic – the best stat is 3-2. It's the stat that means you've won the Davis Cup.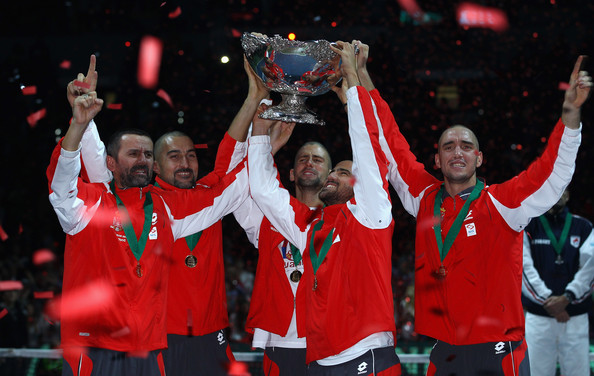 All matches from this Davis Cup final can be downloaded here. As ever, please avoid highlights.