Paris Masters 1000 Final
Soderling d. Monfils, 6/1 7/6
Q: What does Robin Soderling have in common with Sebastien Grosjean, Tim Henman, Tomas Berdych, Nikolay Davydenko and Jo-Wilfried Tsonga?
A: In the last decade, they all claimed their first Masters 1000 title at the Paris Indoors.
For all but Davydenko, it remains their only Masters Series shield. Will a similar fate befall Soderling? One imagines not. But then, one imagines Soderling would've won a Masters already. One likes to imagine stuff. That's what one does.
Yesterday's semifinals were little short of magnificent, and so close that today's final could very easily have seen Llodra facing Federer for the title. Either match could have gone either way. Today, once play commenced, it was only going one way. Monfils came out looking like Monfils, which is unsurprising since it's almost impossible for him to look like anyone else. Sadly, following his poised, contained and aggressive performance to overcome Federer in the semifinal, he was back to playing like Monfils. To be fair, he was kind of beat. Not unlike his compatriot Tsonga in the Australian Open semifinal this year, Monfils probably had something left in the tank, but not enough to go beyond cruise control. He might have eked out a win against a lesser adversary, but not against Robin Soderling bringing down the hammer.
The first set flew by. It looked like a baguette, but smelled suspiciously like a bagel. The second limped to a tiebreak, but only so as to delay and heighten the crowd's inevitable anguish. It was further proof, if any were needed, that Soderling is really just a big meanie. First he imitates Nadal, now this. His detractors have composed uncounted monographs assessing the moral craptitude inherent in the Swede's handshakes and post-match celebrations. It has become an important sub-field in the study of men's tennis. While I'm not a rampant supporter of either player, I'm far from a detractor of Soderling, and my reaction to the result was one of vague relief. The feeling caught me off guard, but I think it was mainly relief that Soderling hadn't blown a match he should win, even if he was playing a streaky Parisian in Paris. It is his first Masters title. Frankly, it feels like it's about goddamn time.
Coming in to the match, two recently penned paragraphs sat heavily on my mind:
How will the French armada perform in Paris? I like it when they do well, and I'd perversely like to see Monfils break through for his maiden Masters title in Paris. Not that he deserves it. (September 28)
Now don't get me wrong, I actually like the guy [Soderling]. I want to see him do well. Imagine if he won at Bercy? Then we'd really be saying WTF. (October 29)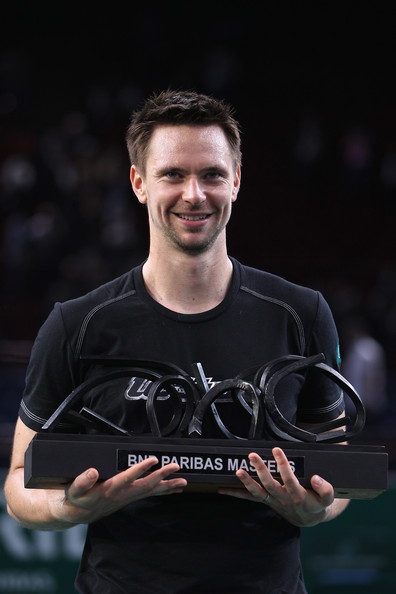 Aside from being preternaturally prescient – and I don't deny a glow of satisfaction about that – I'm a man of my word: WTF. There, I've said it. And that's precisely where Robin Soderling is headed, and with a degree of momentum that no one else besides Federer can realistically boast. Will he be the man to beat? Sure, if you happen to be Tomas Berdych, David Ferrer or Andy Roddick. But I imagine Nadal and Federer – and even Djokovic and Murray – will still fancy their chances.
Here's the thing: if Robin Soderling was ever going to lift a Masters trophy, this was the moment. Here was his preferred slick indoor surface. Nadal had pulled out the week before, and both Djokovic and Federer were beaten before he had to face them. His opponent in the final was almost out on his feet. There was no match this week in which he was not the clear favourite. So, given the way the cards fell, shouldn't the world No.5 be expected to win the title?
All the same, it was his erstwhile inability to make that step – to win the tournaments he should be winning – that drove his fans spare. I've said before that he is 'really just the best of rest, leading a second tier that's looking decidedly third-rate'. I stand by the first part of that proposition, even if Monfils and Llodra have shown me up on the second. It was a little absurd that Soderling's career boasted no more illustrious title than a 500 event in Rotterdam. You know, perhaps the world No.5 should be picking up Masters 1000 events here and there?
Actually, by winning Paris, Soderling is now No.4 in the ATP Entry Rankings. Thus, according to at least one (dubious) metric, he is a better tennis player than Andy Murray, at least for the moment. Notwithstanding the consensus that Murray has had a disappointing year, and that Soderling has had a pretty stellar one, the points don't lie. The points may well be different in two weeks time, since Soderling has a semifinal in London to defend, and Murray doesn't. Say what you like about Murray's Grand Slam record, but the guy is a contender. By winning Paris, Soderling has started to convince me that come 2011, he might be too.