Enter the Big Four
The tournament proper got underway today, with the top 8 seeds in action following their first round bye. This included the four best tennis players on the planet.
Nadal d. Wawrinka 6/4 6/4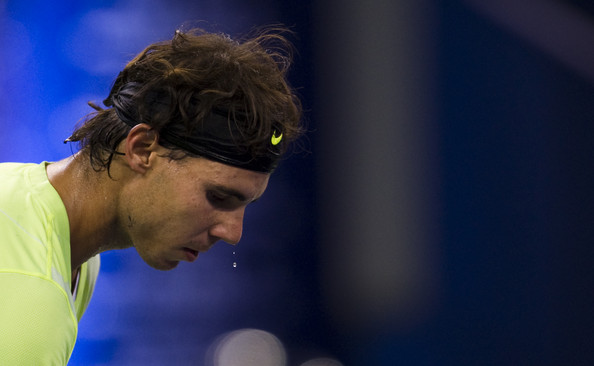 Steady (though not spectacular) against a tough first-up opponent in Stanislas Warwinka, Nadal's performance very much highlighted what has seemed apparent to me for the last few weeks: he's not confident on his backhand. It's clearly a concern. Time and again he was short from that wing, and Stan would go there to open up the forehand, in much the same way that Monfils didn't in Tokyo. (Warwinka is clearly a better tennis thinker than Monfils, but that hardly qualifies him as a genius, since he doesn't read Dostoyevksy). Again unlike Monfils, Wawrinka demonstrated that with sufficient aggression, Nadal can be hit through on a fast hard court. Several times the Spaniard opened up the forehand side, blasted a big off-forehand crosscourt, only for Stan to track it down and hammer it back crosscourt, where the power and audacity of the shot would rock Nadal back on his heels.
But despite all that, Nadal won, and he won by winning the big points, as the scoreline suggests. At the crucial moments, time and again, the Spaniard characteristically lifted, bombing first serves or clever change-ups on the second, hitting out on his forehand. The Swiss, unsurprisingly and inevitably, folded, the depressing destiny of a deterministic world, the world Nadal's opponents are made to inhabit. That's what was so astounding about Garcia-Lopez' win a few weeks back: his momentarily broke through into a different world. Having nothing to lose, he played like it, even once he'd maneuvered into a position to blow it all. Troiki almost got there in Tokyo, but ultimately remained mired here. Nadal's forehand up the line remains scintillating, and is clearly his form shot of the moment.
Federer d. Isner 6/3 6/4
Speaking of other worlds, Federer's first match since the US Open saw him drop-shotting and wrong-footing the 6'9 Isner at every opportunity. Somehow, we all predicted we'd be seeing some pretty impressive serving, and when Federer closed out his opening game in 47 seconds, we were proved right. All in all, tight stuff from Federer, especially after a long lay-off, against a rhythm-less opponent. Oh, and he hit another tweener. It wasn't a winner, but it won him the point. The crowd went predictably bananas.