There are few things our society loves more than seeing an alleged expert revealed as a pretentious charlatan, for their so-called expertise to be revealed as mere sophisticated chicanery. One of the preferred stings – beloved of tabloid news programs – is to submit a bunch of wine connoisseurs to a double-blind test, and ask them to grade the wines by quality and price. Invariably they get it wrong, and pick a $12 dollar as premium, and a $100 bottle as table swill. The subtle subtext is that wine-appreciation is a load of crap. Anyway, real men drink beer.
With that in mind, how many experts picked these results in Bangkok and Kuala Lumpur:
(8) Andrey Golubev d. (1) Robin Soderling 6/3 6/2
Guillermo Garcia-Lopez d. (4) Ernests Gulbis 7/6 4/6 6/3
Jarkko Nieminen d. (3) Jurgen Melzer 6/3 7/6
Personally, I'm 0/3 on those. Other results were less startling, though the matches were excellent:
(5) David Ferrer d. (3) Tomas Berdych 4/6 7/5 6/4
(4) Mikhail Youzhny d. (6) Marcos Baghdatis 6/7 7/5 6/1
Both were crackers, and both timely reminders that a tennis tournament doesn't have to be meaningful to be worthwhile, it just has to feature good tennis. Commentators who endlessly bemoan the 'pointlessness' of the season after the US Open should perhaps spend less time pondering the philosophical ramifications of the ATP tour. There are plenty of good players in the Asian swing, and they don't seem to be trying less hard because Kuala Lumpur isn't leading up to a Slam.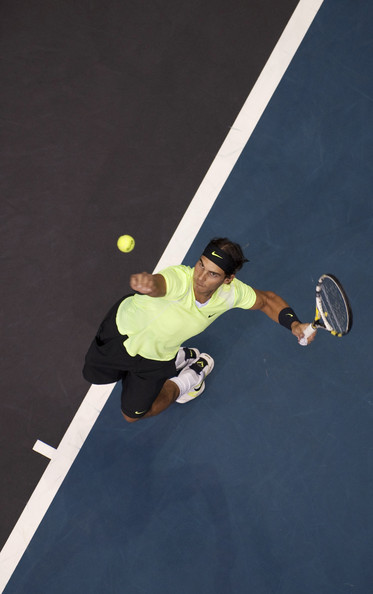 Having said that, you do have to wonder why Rafael Nadal is in Bangkok. I'm guessing he doesn't need the money, and an extra week's tune-up for the Shanghai Masters seems like overkill. But then, this is the part of the season when he's usually at his worst. He definitely wants to remedy what has clearly grown to become a structural issue with his season. Having won his first US Open a few weeks ago, I think it's admirable he's here. Back in 2004, Federer also played Bangkok after winning his first US Open, and won it (bagelling Roddick in the final!). We should not discount the fact that Nadal's presence is an enormous benefit for these tournaments, and that the Spaniard takes his duties as No.1 as seriously as Federer did.
Anyhow, Rafa  looked sharp in overcoming Kazakhstan's new Davis Cup hero Mikhail Kukushkin 6/3 6/2. Nadal's important stats:
Aces: 7
Double Faults: 0
1st Serve %: 79%
Winning 1st Serve: 91%
Breakpoints Saved: 0/0
The serve that swept him to the title in New York is here to stay. Does it feel to anyone else like the last piece of the puzzle has fallen into place? Expert opinion says yes.