Magical Moments
Kooyong, Day One
Australian Open Qualifying, Day One
'Thompson is once again on the precipice of a magical moment in Australian tennis.'
Jordan Thompson twice came within a point of defeating Richard Gasquet at Kooyong's AAMI Classic today, a magical result, according to the commentator, that would have equalled Lleyton Hewitt's defeat of Andre Agassi at the Adelaide International in 1998. He didn't precisely come out and say that victory for Thompson would have established the youngster on a course leading inevitably to the world number one ranking, but I like to think he implie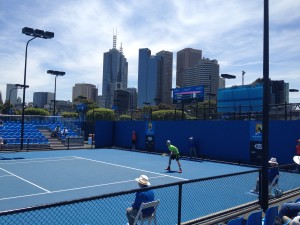 d it. Alas, though it was a fine performance from Thompson – memorable, even, if not magical – he lost. He'll have to get to number one the hard way.
Channel 7 works hard to promulgate the idea that the AAMI Classic is something more than a mere exhibition. Their coverage deliberately makes no distinction between the action occurring in Sydney, an officially endorsed tour event, and Kooyong, a round robin exhibition event conducted in a perennial gale that no one involved seems to take very seriously. A few years ago Bernard Tomic stole an umpire's shoe during a match; another magical moment in Australian tennis. The year before that I think he beat Novak Djokovic, a result that clearly rocked the Serb to his core.
A strong performance at Kooyong historically serves as no sort of form guide for the Australian Open, let alone for the tennis fortunes of an entire nation. Recall how Andy Roddick beat Roger Federer in the Kooyong final in 2007, but was then famously drubbed by him two weeks later at Melbourne Park? Hewitt won Kooyong three years ago yet subsequently lost in the first round of the Open. Of course, I disapprove of 'exhibition' as a blanket term, since it obscures more than it reveals. The Hopman Cup boasts neither APT nor WTA approval, but it's still a weightier affair than, say, Federer's charity match with Jo-Wilfried Tsonga in Rod Laver Arena tonight. For importance, Kooyong is positioned nearer the former than the latter, but that doesn't mean any of the players necessarily care if they lose. At worst they shrug at the gusting breeze. Usually they just smile with withering wryness.
The eagerness to unearth future champions is consuming for the local broadcaster, and if potential is what you're determined to uncover it's inevitable you'll find it everywhere. The exception, today, was at the Australian Open qualifying, which for seriousness leaves even the Hopman Cup behind. While Thompson was almost saving Australian men's tennis across town, only one of ten Australian men had so far progressed past the first round of qualifying. This one, for the record, was Andrew Harris; he played a fine match to see off Italian Simone Vagnozzi in straight sets. Later on John-Patrick Smith also moved through, albeit by defeating fellow-Queenslander Ben Mitchell. Marc Polmans was roughly schooled by Paul-Henri Mathieu, which is appropriate since the Australian is still school-aged, though this doesn't justify his rocking a legionnaire's cap. Both Alex Bolt and Luke Saville contrived to lose 11/9 in third sets, to Axel Michon and Paul Capdeville respectively. Capdeville was one of the few non-Australians to enjoy vociferous support today, with a respectable Chilean contingent thoughtfully redoubling their exhortations after he hurled his guts onto court.
Page 1 of 2 | Next page